News image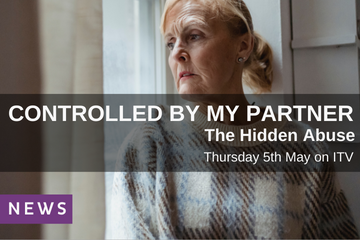 ITV Tonight's coercive control documentary shows the specialist approach that needs to be taken to support older victims of abuse
Tonight, (Thursday 5 May), an ITV Tonight documentary will explore coercive control, the emotional and psychological abuse of a partner and the complexities and impact is has when the victim is older.
More than a million older people are subject to abuse in the UK every year but there is barely any specialist help available to support them.
Coercive control is a complex form of abuse and for some older women who are victims they find themselves as the main carer for the person abusing them. When this is being done to people in their later life the dependence and loss of confidence can become even more complex and difficult to acknowledge and address.
With the number of people living with dementia set to increase and people living longer with physical disabilities, we're raising the alarm that coercive control later in life is only set to increase.
This form of abuse, and others such as domestic violence and sexual assault, needs to be addressed through creating a national network of specialist support from older person IDVAs (independent domestic abuse advisors).
We are calling for a commitment to radically increasing the specialised support to help older people experiencing abuse. Take a look here at the work we are doing with specialised IDVAs across the country.
20% of people in the UK are impacted by the abuse of older people. We want to see practitioners and designated people within frontline services with expert knowledge in the nuances of dealing with older victims. We offer training to frontline workers such as the police, NHS and social care workers to be able to spot the signs and be able to address the unique barriers.
Find the programme here
---
If you're being affected by coercive control, or know an older person who may be experiencing abuse, Hourglass can support you. Call our 24/7 helpline on 0808 808 8141 or see our services page for more ways we can help you.