We will support the creation of a society that truly values older people - where those at risk can live free from abuse perpetrated by those in whom they have an expectation of trust. When abuse occurs, we seek an environment in which it can be identified and addressed.
Join our team and you'll be part of the solution to making this vision a reality, helping every older person to live in a society that values them.
Current Vacancies
England: 
Fundraising and Communications Assistant
We are looking for a creatively minded Fundraising and Communications Assistant to join our energetic team in Long Melford.
Our charity is exclusively focused on supporting, advising and helping older people who have been the subject of abuse, while championing their cause with the police, government and statutory bodies. This role offers fantastic scope and opportunity as the charity continues to grow.
You should have at least 1 years' experience and will need to be acquainted with the world of fundraising or sales/ customer services equivalent and proactive in your approach to this role. You will be reporting to the Director of Fundraising and Communications and working within a passionate team to drive fundraising opportunities and help to raise the profile of this amazing charity.
Your key responsibilities will include:
Raise funds to agreed targets and support the organisation's activities via, corporate, individual giving and community fundraising as well as exploring new income streams

Market and promote the work of the organisation to a wider audience using email, calls and presentations in person where necessary.

Empower supporters to organise and undertake their own fundraising activities

Maintain accurate records, including maintaining the fundraising and income generation database and CRM system
​​​​​​​For this role, you will need to be a positive and proactive person with a caring yet driven nature as well as being happy to embrace the excitement of being able to join a charity in a very busy time of growth! This is an unmissable opportunity to join a brilliant organisation, whilst contributing to their outstanding and meaningful work.
Due to the location of their offices this role would be commutable for candidates travelling from Colchester, Bury St Edmunds, Stowmarket, Haverhill and Braintree.
Job description
Find out more here - download PDF
To apply, or to discuss the application, contact Séamus Connolly, Director of Fundraising & Communications:
Email – Seamusconnolly@wearehourglass.org 
Mobile – 07946352685
Interviews to be held on a rolling basis, until the position is filled
Cymru: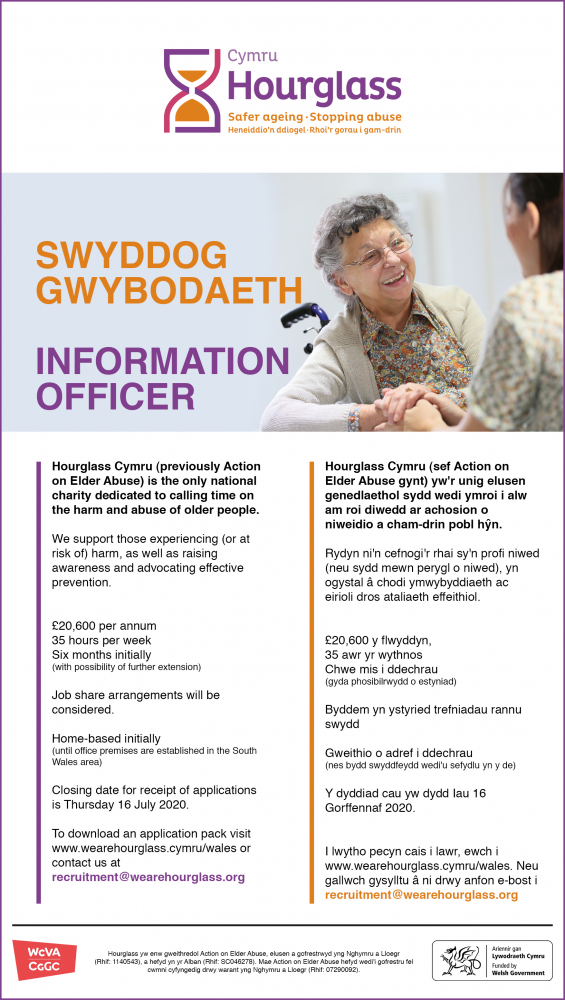 Hourglass is the only charity in the UK dedicated to calling time on the harm, abuse and exploitation of older people. We support older people experiencing, or at risk of, harm, abuse or exploitation, and work towards a fairer society for all older people.
We are seeking an Information Officer to:-
Provide information, advice and support on Hourglass' well-established national Helpline.
Working as part of a team of staff and volunteers across the UK, you will primarily provide support to older people and others from across Wales, as well as supporting callers from other nations.
Providing information via telephone, email and other online methods, you'll play a vital frontline role in providing immediate advice and support, as well as referring on to other sources of support and expertise.
Job Description & Application form
---
Hourglass yw'r unig elusen ym Mhrydain sy'n gweithio'n benodol i roi diwedd ar niweidio, cam-drin a chamfanteisio ar bobl hŷn. Rydyn ni'n cefnogi pobl hŷn sy'n profi, neu sydd mewn perygl o ddioddef niwed, camdriniaeth neu gamfanteisio, ac yn gweithio tuag at greu cymdeithas decach i bob person hŷn.
Rydyn ni'n chwilio am Swyddog Gwybodaeth i:-
ddarparu gwybodaeth, cyngor a chymorth ar gyfer Llinell Gymorth hirsefydlog genedlaethol Hourglass.

 

Byddwch yn gweithio fel rhan o dîm o staff a gwirfoddolwyr ledled Prydain, ac yn gyfrifol yn bennaf am ddarparu cymorth i bobl hŷn ac eraill o bob rhan o Gymru, yn ogystal â darparu cymorth i alwyr o'r gwledydd eraill.

 

Drwy ddarparu gwybodaeth dros y ffôn, drwy e-bost a thrwy ddulliau eraill ar-lein, byddwch yn chwarae rhan allweddol ar y rheng flaen wrth ddarparu cyngor a chymorth uniongyrchol, yn ogystal â chyfeirio pobl at ffynonellau eraill o gymorth ac arbenigedd.
Disgrifiad Swydd & ffurflen gais