News image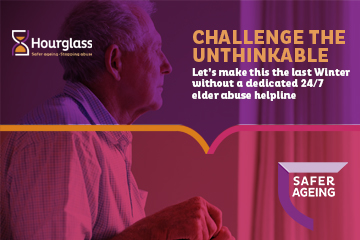 UK's only safer ageing charity warns of winter isolation and rising elder abuse in run up to Christmas after damning 2.7m abuse statistic revealed, as it bids to offer 24/7 helpline.
Calls to abuse charities have hit unprecedented highs throughout 2020 lockdowns.
Safer ageing charity, Hourglass revealed earlier this week that 1 in 5 over-65s in UK have experienced abuse, with almost 2.7 million victims thought to be affected across the country.
UK's only safer ageing charity looks to provide 24/7 helpline access as it sends open letter to the Home Secretary calling for support in ensuring that the abuse of older people is taken as seriously as other forms of abuse.
With calls to abuse charities hitting record highs during the 2020 lockdowns, the UK's only charity focused on the abuse of older people is taking steps to secure round the clock support for those in need.
Hourglass, formerly Action on Elder Abuse, has launched a bid to help make its vital helpline available 24/7 after earlier this week revealing polling data showing that 1 in 5 (22 percent) people either had personal experience of abuse as an older person (aged 65+) or knew an older person who had been abused. It found that well over half (53%) of people in the UK felt that the abuse and neglect of older people had increased as a result of lockdown, highlighting the real need for ongoing targeted support.
Launching Safer Ageing Week on Monday (30 November), Hourglass announced a raft of new measures and ways in which the public can access its support.
The charity, founded in 1993 by Baroness Sally Greengross, has long relied on a helpline staffed by volunteers and employees, and the charity is now calling for financial support to make this provision open all hours.
Until 2020, the charity received no government or statutory support and relied exclusively on donations. Calls to the charity's helpline have increased dramatically throughout this year's lockdowns (up 110% between 23 March 2020 – 31 Aug 2020 compared to 1 December 2019 – 22 March 2020).
The charity, which has operations across England, Northern Ireland, Wales and Scotland, received some emergency funding in response to the pandemic and has invested heavily in new services to deal with the complexity of demand.
Hourglass deputy CEO and Policy Director, Veronica Gray, said:
We have seen abuse charities across the UK and Ireland report calls spiking during the pandemic. Likewise, we have seen call attempts during our closed hours steadily grow and we need support now to ensure this is the final winter without a 24/7 elder abuse helpline.
Chair of Trustees for Hourglass, Caroline Cox, added:
Hourglass has launched Safer Ageing Week to ensure people are mindful of the rights of older people to have a safe and secure environment when they are at their most vulnerable.
On Monday, we began using text messaging via our helpline staff, instant messaging via our website, and launched the UK's first Knowledge Bank for older people at risk of abuse. However, whilst all our information online is available 24/7, we rely on staff and volunteers to give that vital in-person advice via the helpline or messages. That has only ever been available during business hours and we need to make this provision available round the clock.
The charity has also sent an open letter to the Home Secretary and to her counterparts in the devolved administrations. The letter calls for support in ensuring that the abuse of older people is taken as seriously as abuse against other populations. The charity believes the polling figures underscore the inequality in support for older people who are at risk of or have experienced abuse.
The charity is urging those keen to support the 24/7 campaign to make a donation by visiting www.wearehourglass.org.uk/donate or Text SAFER to 70460 to donate £10. Texts cost £10 plus one standard rate message and you'll be opting in to hear more about our work and fundraising via telephone and SMS. If you'd like to give £10 but do not wish to receive marketing communications, text SAFERNOINFO to 70460.