News image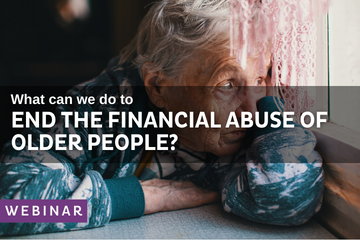 On the 8th December, Hourglass is hosting a webinar to mark Safer Ageing Week 2022
To mark Hourglass' 2022 Safer Ageing Week, we are hosting a webinar focusing on what we need to do to end the financial abuse of older people.
Financial abuse makes up 60% of our helpline calls. As the cost of living crisis continues, this type of abuse will continue to rise.
The webinar will examine how we spot the signs of abuse, what can be done to prevent abuse, what can banks and other financial institutions need to do to keep older customers safe and what should be done from legal perspective to protect older people.
We will be joined on the panel by representatives from Aviva, Talis Financial as well as individuals who work on Hourglass' frontline services, to talk of their experiences.
This webinar is free and available to anyone who's interested in ending financial and economic abuse.If you would like to ask questions to the panel, then please email pennywilby@wearehourglass.org