News image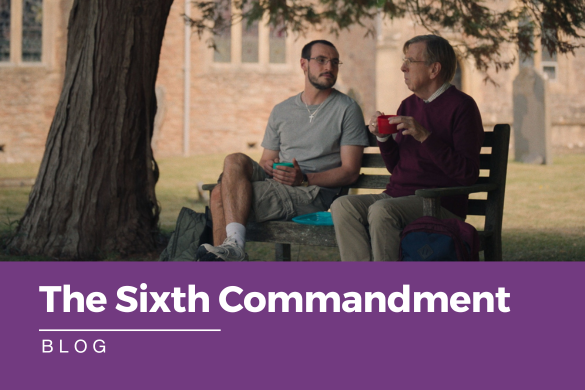 New BBC drama sheds light on the abuse of older people, recounting the true story of the gaslighting and murder of Peter Farquhar and manipulation and abuse of Ann-Moore Martin.
---
The abuse of older people is the focus of The Sixth Commandment, a new BBC drama that is receiving rave reviews from audiences and critics alike, shocked by the harrowing scenes and moved by its portrayal of the victims. The series is based on a true story covering the manipulation and murder of Peter Farquhar in 2015 and abuse of Ann Moore-Martin in 2017 by Ben Field.
English lecturer and novelist Peter Farquhar lived three doors down from Ann Moore-Martin in Maids Moreton, Buckinghamshire, both finding themselves the target of abuse from PhD student and churchwarden Ben Field, then aged 28. Peter and Ben began a relationship that moved shockingly fast, with Peter writing Ben into his will in 2013 and later moving in with him. During their time together, Ben secretly began a sexual relationship with Ann.
Over a period of two years, Field spiked Peter's drinks with alcohol and laced his food with drugs in an attempt to confuse and manipulate, slowly poisoning him. In October 2015, Peter was found dead in his home aged 68, with the death initially ruled as being due to alcohol poisoning. In actuality Ben had suffocated him, placing a half-empty bottle of whisky beside him in order to create a narrative that he had drunk himself to death.
After Peter's death, Ben moved in with Ann and the abuse followed soon-after. He controlled Ann, gradually isolating her from her relatives. He pressured her into changing her will, gaslighting her and writing 'messages from god' on her mirrors.
Ann's niece contacted Thames Valley Police, informing them that she believed her aunt was being manipulated by Ben. After an investigation, the police discovered the link between Ben, Ann and Peter, resulting in the arrest and conviction of Ben. Sadly, Ann passed away aged 83 in a care home in 2017.
In court, Ben admitted to drugging Peter in an attempt to inherit his money and possessions. He told the jury "he did it for no other reason other than it was cruel, to upset and torment Peter — purely out of meanness". In October 2019, he was jailed for life with a minimum term of 36 years.
Seven years after the murder of Peter and manipulation of Ann, their stories are being told in a heart wrenching drama series. Made with full consent from the victims' families, the series is remarkable for the care given to the memory of the victims and the unflinching account of the abuse that they experienced.
---
The Reality of Abuse
As shocking as this story is, it is sadly not a rare occurrence. Every year, more than 1 million people over 65 are physically, emotionally, financially or sexually abused or neglected in the UK. At Hourglass, we deal with the very worst cases of abuse committed against older people, operating Europe's only 24/7 helpline for victim-survivors and their loved ones.
It is apparent that older victim-survivors of abuse are often the last in line when it comes to government support and public attention. The profile of this abuse is shockingly low, with only 7% of people thinking of older adults when it comes to abuse. For many people, the abuse of older people is too upsetting of a concept to consider and this has led to the stories of older victim-survivors not receiving the recognition they deserve.
Reviews of The Sixth Commandment from both audiences and critics all have a common thread; frequent mentions of how difficult, yet necessary it is to watch. Katie Rice from the Evening Standard said:
The Sixth Commandment is a show that does not shy away from depicting the uncomfortable. It is not an easy watch by any means, but a worthwhile one nonetheless.
These comments could not be truer, with these responses highlighting the importance of mainstream representation of older victim-survivors of abuse. A big part of our journey here at Hourglass is to raise the profile of this abuse and make the general public aware of the extent.
Nobody wants to believe that their beloved parents or grandparents could be abused by someone in a position of trust. But it happens each and every day, in communities all across the UK. We have an ageing population, a worsening cost of living crisis and a lack of funding for public services, which is already having an impact on rising cases of abuse.
The abuse of older people is not a problem that is going to quietly disappear, instead, it is only going to get worse. Which is why it is so important that we learn to not shy away from the subject and recognise that the problem exists.
We're thankful to the BBC and the team behind The Sixth Commandment for giving Peter and Ann's stories the platform they deserve and helping raise awareness of the abuse of older people. Furthermore, we would like to send our appreciation to the families of the victims for their bravery in letting their late-loved one's stories be told.
Watch all four episodes of The Sixth Commandment on BBC iPlayer here.
---
If you are experiencing abuse, or are concerned about an older person who is, you can contact our 24/7 helpline on 0808 808 8141 for advice, guidance and support or visit our support page for more of our services.