Tuesday 15th June 2021 was World Elder Abuse Awareness Day. Marked annually, the day gives us the opportunity to spread awareness of the shocking extent of abuse of older people across and make people aware of how  Hourglass can help those who are affected by the elder abuse.

WEAAD 2021 is just one day, but a busy one, and we got involved in myriad events throughout the week. 

Here are some of the activities we got up to:
Key political figures across the UK shared their support for WEAAD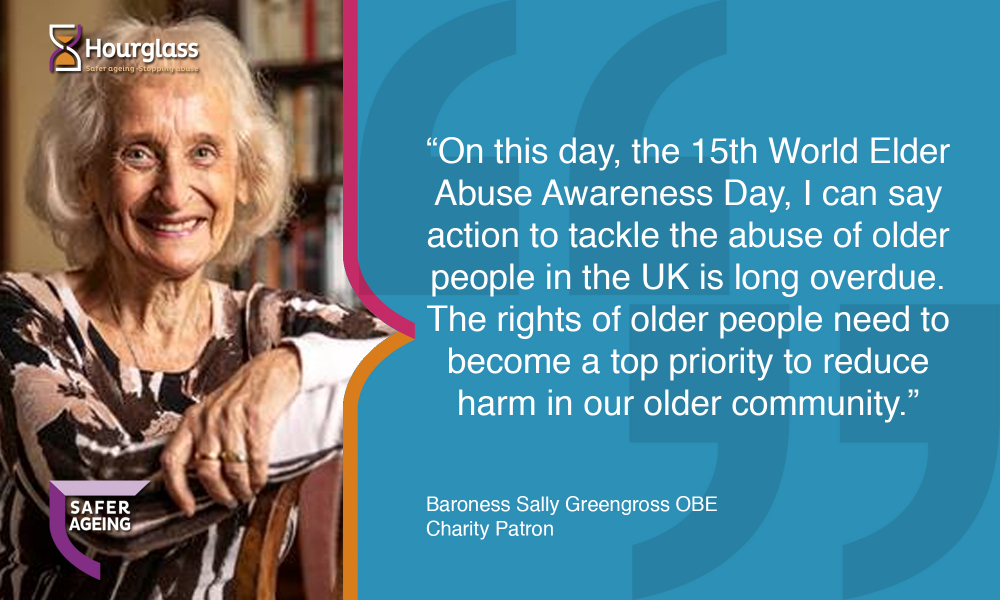 Many MPs & Parliamentarians shared their support, not just for World Elder Abuse Awareness Day, but for Hourglass and our work promoting safer ageing across the UK. You can click here to read more.
Sharing a Purple Heart for World Elder Abuse Awareness Day on social media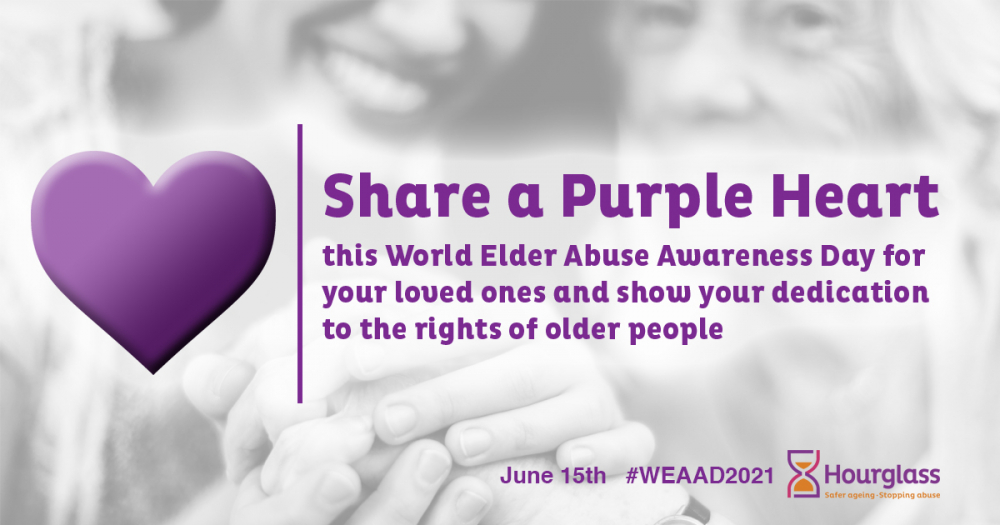 This year, we asked our followers on social media to share a purple heart emoji, to show their dedication to the rights of older people and we were overwhelmed with the response. Thank you to everyone who shared and retweeted Hourglass's purple heart post across their social media platforms. By getting involved, you helped us to show that we will not tolerate the abuse of older people and their safety must be a priority. Your involvement with our posts helped us to bring WEAAD to the attention of tens of thousands of people across the month.

Test Your Knowledge about Elder Abuse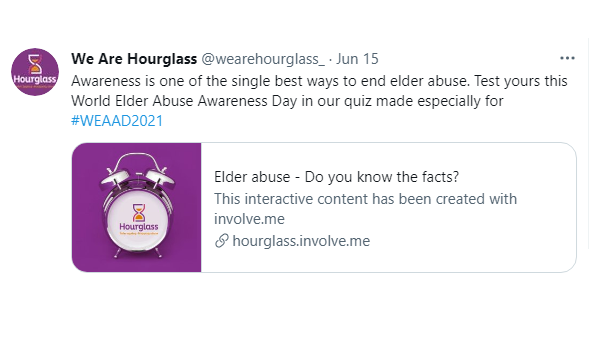 It's not unusual that many people don't realise the abuse of older people is such a problem across the UK. Quite rightly, people are shocked and horrified when they hear the extent of the problem. To highlight the issues, we created a short quiz, to test people on their knowledge of elder abuse. 

Lots took part and if you'd like to see how much you know, give it a try here https://ivlv.me/ZNFdA 

Hourglass in the community 
Members of the Hourglass team were out and about this WEAAD, helping to raise awareness and chat with the public about the issues surrounding abuse and how Hourglass helps those concerned about the safety of a vulnerable older person.

Allison Bates, Community Response Officer for North of England, was at Warrington Market, the team from Scotland had a stall at Mercat Shopping Centre, Kirkcaldy, and Penny Wilby, Marketing Manager and Louise Everett, Fundraising Officer, were both at Sudbury Market.
WEAAD in Wales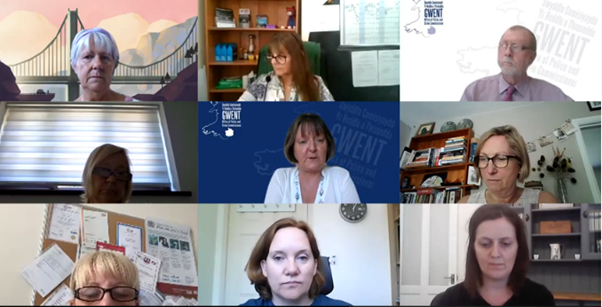 In Wales, Hourglass Cymru Director, Rachael Nicholson joined the panel at the Older People's Commissioner for Wales' event for WEAAD. This event also launched Heléna Herklots' Support Services for Older People Experiencing Abuse in Wales report. You can read the report here

Rachael was also invited to speak at the Gwent Police and Crime Commissioner's WEAAD event. 

Hosted by Police and Crime Commissioner for Gwent, Jeff Cuthbert, the webinar for frontline professionals, shone a light on the devastating impact of abuse on older people.

Titled, 'Abuse has no age limit', gave attendees an understanding of the types of abuse commonly experienced by older people and offered an insight into the complex barriers they can face when trying to seek help. 

You can watch the webinar and read more about the event here
Hourglass Cymru also launched their abuse guides which can be found on the website: https://www.wearehourglass.cymru/wales/types-abuse
The guides are available in both English and Welsh languages.
The vital Give As You Live 24/7 Challenge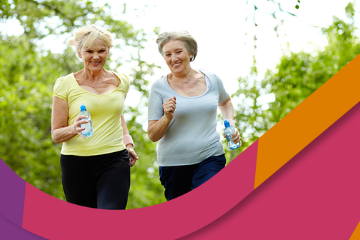 To mark World Elder Abuse Awareness Day, on 15th June, we launched an exciting new fundraiser to raise another £5,000 towards our £200,000 target. This will help us get one step closer to  our vital helpline services being available around the clock, 24/7 to support more older victims of abuse. 
The Challenge

Between the 15th June to 15th July we are asking supporters to complete a physical activity of their choice for 24 minutes every day, for 7 days.
If you have not yet joined, it's not too late! Simply choose an activity - it could be 24 minutes of swimming, walking, cycling, running, skipping or anything you decide - pick which 7 days you are going to complete your challenge in, sign up and start fundraising! 

If you'd like to donate, you can do so here

Any level of involvement will help us to make the vital difference our older people deserve.
A final word

Above all else, we would like to thank everyone who took part – from saying hello to our teams, attending events, joining our challenges and helping to amplify our voice with your loved ones. 
---
                                                                                                                                                                          
Hourglass are available for anyone who is concerned for the welfare of an older person, on 0808 808 8141. Contact us weekdays 9am – 5pm or via one of the methods available here.