News image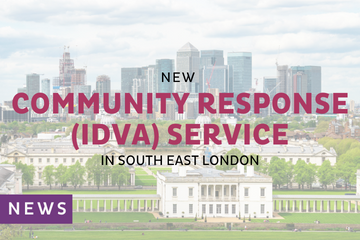 Charity dedicated to ending the abuse of older people, launches South East London service set to support victim survivors
On Wednesday 7th December, Hourglass the UK's only charity focused on tackling the abuse and neglect of older people, is launching a new service in South East London as part of Safer Ageing Week 2022.
This week, older victims of domestic abuse, in the South East London boroughs Lambeth, Bexley, Lewisham, Southwark and Greenwich will be able to get support from a specially trained Hourglass Community Response Officers who specialise in helping people over 60 affected by abuse.
An IDVA provides tailored and specialist support to older people addressing the safety of victims at risk of harm from intimate partners, ex-partners or family members to secure their safety and support them from the harm they have suffered.
People will be referred to the service via Hourglass' helpline from local partner organisations.
It's estimated 30,600 over 65s are affected by abuse throughout the South East London boroughs and Hourglass will play a vital role in meeting the needs of this at risk population. Community Response Officers will lead the way in implementing Hourglass' aims for England across these Boroughs, followed by Thames Valley and Kent. This follows a successful launch of Hourglass' Community Response service last year in Wokingham, East and West Sussex, Brighton and Hove.
Hourglass' Community Response Officers are launching the service with a series of pop up clinics and presentations where they can meet service users face to face. The first pop up clinic is being held on Tuesday, 6th December with a presentation to Café Queero at The Outside Project's LGBTIQ+ centre, Southwark, SE1. Additional events are planned throughout the week.

Richard Robinson, CEO of Hourglass said:
"Our Community Response service was born out of the immense pressures of the pandemic. Dealing with victim survivors in a face to face or virtual context enables us to focus our efforts in designing a tailored care plan. This can take a variety of forms and includes the need for strong collaboration with other partners, charities and the public sector. We are delighted to be undertaking this vital role in South East London and enhancing our provision.
"The abuse of older people is undoubtedly one of the most hidden and misunderstood issues and suffers from an extreme lack of funding. Hourglass received in excess of 15,000 contacts per year from the four nations we support and this figure is growing. What we need now is a greater awareness of the issue and key influencers to stand up and take notice."
If you need support, contact our team at southofengland@wearehourglass.org.
---
Hourglass is asking those who would like to support the work the charity does, to sign the open letter to Rishi Sunak, asking the government to ensure Hourglass has the funding it needs to continue to deliver its 24/7 helpline and help the 2.7 million older people affected by abuse the UK. They can click here: https://bit.ly/OpenLetterToRishi