News image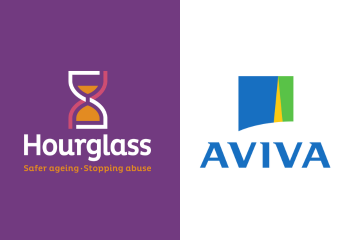 Hourglass, the only charity in the UK dedicated to ending the abuse and neglect of older people, has joined forces with Aviva in a new charity initiative. The charity sees this as a vital partnership and an exciting development.
---
For 30 years, the charity has provided crucial support to older victims and their families, their communities and the professionals who care for older people at risk.
It is estimated every year, one in five people in the UK over the age of 60 suffer financial, physical, psychological, sexual abuse or neglect and Hourglass deals with the very worst of these cases. Overall calls to their unique 24/7 helpline are up 69% year-on-year and the charity has seen a rise from 4,000 calls/impacts in 2018 to over 30,000 in 2023.
Calls to the helpline, available 24/7 on 0808 808 8141, relating to financial abuse, have seen an increase of 67% this year. These numbers are expected to rise again as the cost-of-living crisis impacts more families up and down the UK, and the charity is predicting a significant increase in serious abuse and neglect cases.
This collaboration with Aviva aims to raise awareness of the financial abuse of older people and the devastating effect on families and the community. The charity will also work hand-in-hand with Aviva's teams to support and identify customers that could be at risk of exploitation or abuse. The partnership will also help strengthen the expertise and community links Aviva has with their current and future customers.
Aviva's support will see Hourglass offer additional training and support to their frontline teams as well as pop-up clinics and events across England, Scotland, Wales and Northern Ireland. The Aviva/Hourglass partnership will also produce financial abuse booklets with advice on how to keep family members safe.
Richard Robinson, CEO of Hourglass, said:
"In a recent meeting, the UK Government's Safeguarding Minister described the support and funding of older people facing abuse and neglect as an historical anomaly. It is with ground-breaking innovative partnerships like this that we can redress the balance. Somehow, financially abused and neglected older people have become the last in line for support and Hourglass, alongside partners like Aviva, pledge to end that imbalance ensuring that the financial abuse of older people becomes a priority area for understanding and investment.

"We'd like to thank Aviva for joining us in this initiative. This is the biggest such venture the charity has ever undertaken and we are delighted that Aviva, with its many years working in the sector, has sought to work alongside Hourglass in this manner. We believe this is an inspirational partnership."
Sam Mirehouse, MD Aviva Financial Advice, added:
"We are delighted to be collaborating with Hourglass in this vital work and look forward to getting started in supporting these community initiatives. At Aviva Financial Advice, we have always recognised the importance of protecting potentially vulnerable customers and place a great deal of emphasis in our training programmes, of recognising the signs and seeking help and support for customers, where necessary. Harnessing our track record and Hourglass's expertise is a great opportunity for us to make a real difference in helping those in need and doing what we can to prevent more financial abuse and harm in future."

To find out more, visit the Hourglass website at www.wearehourglass.org
---
Notes to editors
About Hourglass
Hourglass is the only UK-wide charity dedicated to ending the abuse, harm and exploitation of older people and promoting safer ageing for all. The charity delivers the only freephone helpline dedicated to this cause, open 24 hours a day, 7 days a week, on 0808 808 8141 for confidential support and information.
Hourglass is a registered charity in England and Wales (1140543), and also in Scotland (SC046278)
Contact
Richard Robinson, CEO
richardrobinson@wearehourglass.org
Mobile no: 07552245232
About Aviva
We are one of the UK's leading Insurance, Wealth & Retirement businesses and we operate in the UK, Ireland and Canada. We also have international investments in India, China and Singapore.
We help our 18.7 million customers make the most out of life, plan for the future, and have the confidence that if things go wrong we'll be there to put it right.
We have been taking care of people for more than 325 years, in line with our purpose of being 'with you today, for a better tomorrow'. In 2022, we paid £23.2 billion in claims and benefits to our customers.
For more details on what we do, our business and how we help our customers, visit www.aviva.com/about-us
---
Media enquiries
Catherine Comben
Mobile no : 07800 692087