News image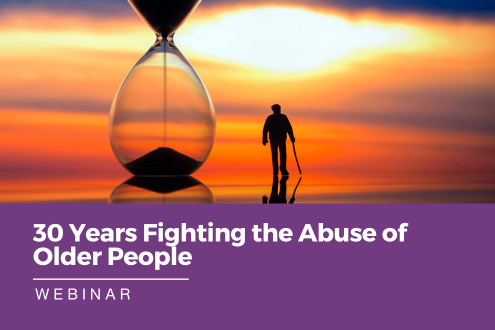 30 Years Fighting the Abuse of Older People – discussing the success and challenges for older people.
Thursday 28 September 2023, 10am to 11.30am.
In 1993, Action on Elder Abuse (AEA) was established by group of concerned medical and social care professionals, academics and representatives of the voluntary sector with the dual aims of raising awareness and promoting practical initiatives to prevent the abuse of older people. In the intervening 30 years the charity has changed significantly, now covering the four nations of the UK with our 24/7 helpline, community response and more.
This webinar will reflect on the changing landscape of adult safeguarding over the last 30 years, and explore the evolution of AEA to Hourglass, while looking to the future challenges and opportunities as we work to end the abuse of older people and promote safer ageing for all.
---
Panellists
Richard Robinson, CEO, Hourglass
Richard took up post as CEO of AEA in late 2018 and since then has achieved a remarkable transformation and modernisation agenda, leading the charity through its rebrand and relaunch as Hourglass, and developing new and innovative programmes while navigating the difficulties posed by the pandemic.
With sustainability the key, Richard will look to the future challenges and opportunities for Hourglass.
Dr John Beer OBE, former Chair, Action on Elder Abuse and Vice President, Hourglass
John has recently retired after 13 years as Executive Director of Southampton City Council. Prior to that John was an Area Director of Social Services in Surrey and where he ran Children's Services. Joh is a frequent speaker at conferences, chairs seminars, and is engaged in several reviews into health inequalities.
John was Chair of the Board of Trustees for AEA/Hourglass for 10 years during which time he oversaw the charity rebrand and relaunch.
Maggie Evans, Director of Frontline Services, Hourglass
Maggie has been with the charity for 18 years and has overall responsibility for all frontline service delivery. As the charity's longest serving member of staff, Maggie has seen many changes in policy and practice, in particular the development of the charity's services for older victim-survivors. Maggie will reflect on the nature of our work on the frontline and how we support those in most need of our help.
Nick Kelly, External Affairs and Parliamentary Manager, Hourglass
Prior to his employment with Hourglass, Nick was the parliamentary researcher for the late Baroness Sally Greengross, OBE. Sally was one of the founders of AEA and Nick will reflect on Sally's years of tireless work to champion the rights of older people, including her passionate campaigning on behalf of older victims of domestic abuse.
Bridget Penhale, founding Vice Chair of AEA
With a background in psychology and social work, Bridget has specialised in work with older adults since 1983 and has specific interest and expertise in violence, abuse, select and exploitation of older people, particularly older women. Together with the late Dr. Gerry Bennett and Paul Kingston (now Prof., University of Chester), she was involved in establishing Action on Elder Abuse in the early 1990's and assumed the role of the first Deputy Chair of the Board of Trustees when the organisation gained charitable status (in 1993), a position that she held for 2 terms of office.
This webinar will be chaired by Caroline Cox, Chair of Hourglass board of trustees.