News image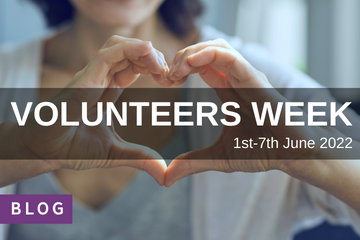 From the 1st to the 7th of June, we're celebrating Volunteers Week!
Volunteers at Hourglass are an essential part of our mission to establish a safer society for older people across the UK. We're incredibly proud of our team of volunteers, who work tirelessly to support anyone affected by the abuse of older people. From working on our helpline services, to research and community response, we're incredibly grateful for all the work that you do!
---
Our volunteers speak about the work they do here at Hourglass and what volunteering means to them.
Maureen: "My name is Maureen and I've been a volunteer with Hourglass for a year and a half.
I visit my older person for around an hour each week. During my visit we can discuss any worries they may have, any scams or issues they may need to be aware of, and have a chat and a giggle.
I'm a mum of 3 and work part time but I can fit in my visits around my commitments.
It is very rewarding to know that by spending some time, I've made a difference to their week and the huge smile I get at the door makes it all worthwhile".
Julie: "My name is Julie and I first started volunteering for hourglass during Covid lockdown days. I had always meant to get involved in something like this as I would like to provide some company for an older person feeling isolated or lonely.
Hearing that happy voice at the other end of the phone so grateful for my call and hearing her laugh and imagining her smile is very rewarding and humbling which is why I continue to volunteer.
I myself have experienced isolation and loneliness through different experiences in my life as most people have these days, so I understand so well how that can feel.
Just a little phone call and to feel you are worth someone's time can mean a-lot to someone.
Margaret - Hi I'm Margaret, l volunteered to be a phone friend for Hourglass, because during lockdown l got support from the charity , and l wanted initially to give something back , l really enjoy chatting away to people especially older people that are maybe lonely, they have so many interesting stories , I'm pleased l can help.
---
Are you thinking of volunteering? We're looking for people to join our friendly and welcoming team of volunteers, to work on our helpline. Enquire about volunteering by emailining volunteers@wearehourglass.org or visiting https://www.wearehourglass.org/volunteer
Thank you to all our volunteers!