News image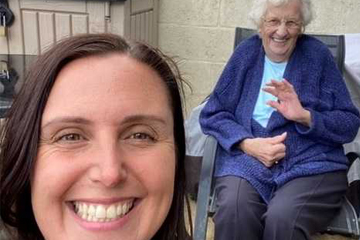 Following the start of the pandemic last year, we introduced a temporary food delivery service, ensuring that vulnerable older people across Fife were supported.
After the service drew to a close, we continued to support clients, such as Violet. Violet not only had a good chat and laugh during her socially distanced garden visits with Carralanne, but she also learned how to keep herself safe, through information regarding Covid-19 measures and scam awareness, and signposting to additional support as needed.
Violet's family told us "she has really enjoyed your visits, and we can't thank you enough!"
Sadly, we know that many older people will continue to be seen as "easy targets" by those seeking to prey on isolated and lonely people for scams. This makes tackling loneliness and educating our clients about how to best protect themselves, and where to get support if they're worried, a vital step in establishing long-term protection.
Our Fife-based Community Hub provides signposting, guidance and the opportunity for one-to-one support (currently virtually due to Covid-19). Find out more about how our service works and how you can use it here