News image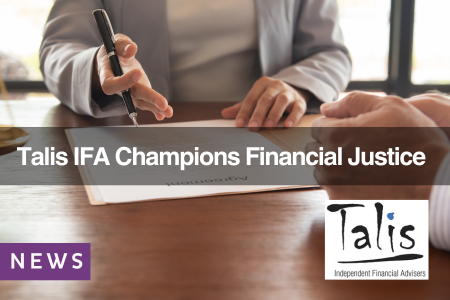 No fewer than eleven of Talis IFA's professional financial advisers are donating their time to support the charity Hourglass by offering free guidance to victims of financial abuse.
Hourglass was founded in 1993, and has offered a Helpline service since 1997, touching the lives of tens of thousands of people. In 2022 alone, their volunteers provided advice and support to 16,000 Knowledge Bank users.
The charity supports older people who are experiencing, or are at risk of, various types of abuse – whether sexual, psychological, physical, neglect or financial.
This year, eleven Talis IFAs have volunteered as part of Hourglass' 'Give an Hour' scheme. Each month, each adviser will donate an hour of their time to take enquiries from Hourglass staff and volunteers who are assisting those suffering, or at risk of, financial abuse.
---
Richard Robinson, CEO of Hourglass, says, "The 'Give an Hour' scheme enables our callers to get legal and financial guidance on a range of vital issues. This can often be a lifeline for an individual or family looking for answers when they need them most. Our calls and contacts have gone from 4,000 just four years ago, to over 30,000 in the past year. Dealing with these calls is only possible by creating supportive partnerships, and we've already welcomed a number of legal organisations and other businesses to the scheme.
"We're delighted to welcome Talis to 'Give an Hour', and sincerely thankful that so many of Talis IFA's professional advisers are able to support the scheme so positively. I'm certain that their support will make a world of difference to victims of abuse and neglect, and we hope Talis' commitment will act as a beacon to encourage other likeminded teams to support Hourglass and to highlight this most hidden of issues."
Financial abuse is where someone in a position of trust interferes in a person's ability to acquire, use or maintain their finances. It can also cover coercive and controlling behavior. Financial abuse can include things like care workers stealing from the bank accounts of people in their care, relatives using power of attorney over someone's financial affairs for personal gain, or selling property without the elderly person's consent.
According to a 2020 report released by The Co-operative Bank, and Refuge, the national domestic abuse charity, nearly two out of five UK adults (39%) – approximately 20m people– have experienced economically abusive behaviour in a current or former trusting relationship.
James Cole, MD of Talis IFA, explains his reasons for deciding to support the Hourglass 'Give an Hour' scheme:
"As professional financial advisers, part of our role is to guide our clients towards making informed, sensible financial decisions that help them to ensure their future financial security. With reports of growing numbers of people at risk from financial abuse, I wanted to do something to help. One of the things that particularly struck me when talking to Hourglass was the level of misunderstanding around what financial abuse means.

"This opened my eyes to some of the numbers revealed in a recent report (Growing Old in the UK Survey (2020)) which revealed that around a third of people don't see taking money from an older relative's bank account without asking, using a power of attorney over an older relative for personal financial gain, trying to change their Will, or even selling their house without their knowledge or consent as abuse. I found that extraordinary, and worrying. All of those things are not just abuse, they are crimes – but, unfortunately, they very rarely get prosecuted.

"One of the things we pride ourselves on is giving transparent and straight-talking financial advice. I decided that, with the support of other colleagues, we could help by offering our expertise free of charge to people who might be at risk – helping them to understand their rights, protect their money and safeguard their financial future. We'll be helping people to understand their financial position and options around their pensions and savings, equity release, and paying for long term care. We're proud to be working with Hourglass towards a safer ageing society."
For more information about Talis IFA see Independent Financial Advisers Kent | Talis IFA
For more information about Hourglass see https://wearehourglass.org
---
Talis IFA are Kent-based Independent Financial Advisers, established for over 30 years and recognised for offering straight-talking advice that helps clients to make decisions that benefit their financial future.
With a life-first, money second approach, Talis IFA advisers base their guidance on long-standing relationships, and an understanding of how clients want to live their lives or run their businesses.
Their corporate clients benefit from advice on simplifying the financial arrangements that will help them to look after their employees, and make more efficient use of the money in their business.
Talis IFA are members of SIFA and subscribe to the SIFA Professional Charter.
Independent Financial Advisers Kent | Talis IFA
---
Disclaimer for 'Give an Hour' scheme:
Please note: The offer of a free initial consultation with a lawyer is dependent upon a qualification by an Hourglass representative. To see if you qualify, please call the freefone helpine on 0800 800 8141 and, if appropriate, Hourglass will make a referral on your behalf to a lawyer.
Please do not contact Talis directly as you will not be able to claim a free advice session without an Hourglass referral.