News image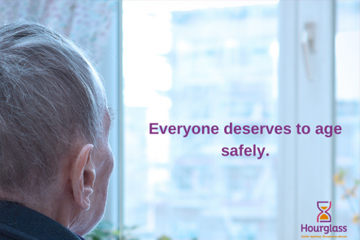 At Hourglass, we have a simple mission – to end the abuse and harm of older people.
Our dedication to helping create a world where every older person is free from abuse and harm is the reason we believe in Safer Ageing.

The need for a society that empowers older people to age securely and live free from abuse or presumed age-related vulnerability was demonstrated earlier this year, when the charity conducted polling across the UK. This polling assessed people's attitudes towards the abuse of older people. The results were shocking.
We learned that:
More than 1 in 3 people did not believe that 'acts of domestic violence directed towards an older person' counted as abuse.
Nearly half did not believe that failing to attend to an older person's needs in a timely fashion is abuse.
This poll was conducted before people across the UK were faced with the first national lockdown. Since then, we know that issues associated with abuse, such as: isolation, loneliness, opportunist scams, and people being separated from their existing support networks, have dramatically increased.

Unsurprisingly, calls to our Helpline have also spiked since last year. We've heard heart-breaking stories from older people living alone, or worse, living with their abuser. We've spoken to people devastated at loss of contact with older loved ones, families unable to be with loved ones at end of life and all too often, the abuse and harm that has been created in this pressure cooker environment.

While we don't know the full extent of the impact of Covid-19, lockdowns and other current issues we weren't facing when people shared their thoughts with us, one thing we do know, is that Safer Ageing is more important now than ever before.

We're not going to stand by and let our older people face this abuse. That's why next week we are sharing brand new information, stories, updates and most importantly – the ways you can get involved to help end abuse of older people. Be sure to follow us on social media and check in on our website for more.

Together we will make Safer Ageing a reality for all.
Veronica Gray
Deputy CEO
Hourglass