News image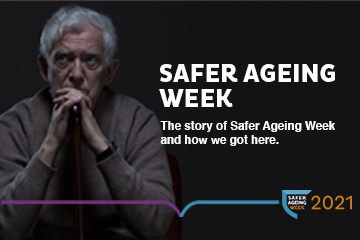 Charities undertake meaningful campaigns to highlight a particular issue or trend affecting a vital element of their cause. These are truly impassioned pleas for understanding and support and they have become a staple in the third sector. Larger charities often use influence from celebrities, politicians or notable experts, with a great deal of money spent spearheading such campaigns.
Safer Ageing Week is an altogether different creature and even in year two of its short existence – we can safely say it is a huge unparalleled success for Hourglass. The reasons why need a little explanation.
Until 2019, Hourglass didn't accept any government funds and therefore the need to lobby was from a pressure group perspective. Action on Elder Abuse believed that with government money our independence would be blunted. In short, we only used the stick because no carrot was necessary.
Fast forward to December 2021 and we now need all FOUR Governments to support us and understand our work, as without them, at the height of the pandemic, we would have been lost. Useful grants from the Home Office, the Welsh and Scottish Governments and the Community Fund saved our services. While other front-line charities struggled amongst the fall-out from covid-19 – Hourglass successfully attempted to rebuild itself.
Therefore, Safer Ageing Week is our first proper crack at lobbying and developing friends in political circles. And we now have a rainbow group of MPs rallying behind the cause and generating interest across all four legislatures.
Another point is our campaign costs, aside from our agency fees (which we pay all year round) and a small social media budget (less than £500) – Safer Ageing Week has been cost neutral and we are enormously proud of that. The socials, the design, the report and the mainstay of the lobbying has been achieved by in-house activity.
But what about the new ways into the charity? We are poised to add a ChatBot and an App (initially Android-based) to our offering. With the Knowledge Bank covering the whole of the UK and Irish Borders – we are really reshaping a near-thirty year old charity and creating REAL impact. And the vast majority of that work was an in-house project. And there is much more of that to come.
The new IDVA scheme is a triumph for Hourglass and this could be a template that reshapes how we reach those that need us most. The Sussex PCC reached out to us in February 2021 and we have co-curated a scheme that could be a fundamental shift. We have two years to develop and make this invaluable through real-time outcomes. We wish those training to be IDVAs all the very best.
Our media presence still needs work. We haven't seen the true impact of Safer Ageing Week from a traditional media perspective but we are confident that with every campaign and initiative comes the media realisation that the abuse of older people matters and requires profile to make a tangible difference.
So – Safer Ageing Week has been achieved with maximum impact but minimum expense, hardly any existing contacts, a traditional media who often don't listen AND the odds stacked against us from a fundraising perspective. 'Elder abuse' is a very difficult message to sell, and that's why we should all be proud and happy that our campaign broke such new ground. And there is so much more we are capable of with the passion and belief we all have.
Therefore, even after a successful Safer Ageing Week, older people are STILL the last in line. The message requires massive profile with every possible demographic to make the seismic change required. And that's why WE are here. That is the job we do and I truly take my hat off to every member of staff, volunteer and stakeholder who made this week such a success. But the real victory will be when the stats, the research and the case studies finally wake up the general public and the governments to this epidemic of abuse. And that's why there will be a Safer Ageing Week next year and a range of other campaigns coming soon.
Stay tuned. And thanks.
Veronica.