News image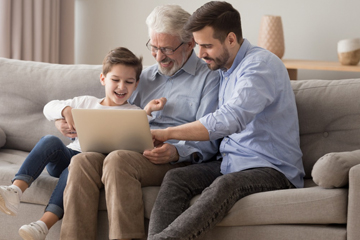 With shopping, banking, entertainment and the chance to say hello to loved ones all now available via a computer, if there has ever been a time that being online is important - it's now.
As we have embraced video conferencing to celebrate birthdays, be part of book clubs or family quizzes, unfortunately, others' experience of embracing online has not been quite so positive.
From online fraud via email to fake websites, many have found themselves tricked out of money or with their privacy compromised.
To ensure we keep safe online, we have put together some useful tips to help you enjoy a safe online life.
Passwords
It's not uncommon to have to set up an account via a website, whether it's for your weekly online shop or Facebook account.
Please make sure your password is strong. By strong we mean the password should be at least 8 characters long. The more symbols, numbers and a mixture of upper and lower-case letters, the stronger the password.
Avoid obvious passwords such as Password1 or the name and year of the birth of your child. These are easy to guess and therefore easier to hack in to.
We also recommend you have different passwords for different accounts. If one account is compromised, you will only have to change one password rather than all of them.
You may worry about forgetting all your passwords, especially if they contain lots of unrelated letters and numbers. There are some great password manager products that will remember all your passwords and keep them safe. You could try one password.com or Lastpass.
If you're uncomfortable using a password manager, there's nothing wrong with noting your passwords in a specific notebook. Make sure you keep the notebook somewhere safe and away from those you may not feel confident sharing your sensitive online information with.
Links In Email
If you come across a link in an email that you're not expecting, even if it's sent from someone you know, do not click on it. This applies to those that appear to come from your bank. Phishing emails ask you to click on the link to update bank details or ask you for other private information, but in fact they may be harvesting your data or spreading a virus to your device.
If in doubt, don't click the link and contact your bank. They have people who are trained in such matters to offer help and advice, so you don't get caught out.
One way you can check the authenticity of the sender, is to hover the mouse over the email address. You may think it's come from PayPal or Amazon, but on further investigation you can see that the email address is unrecognisable
Make Sure You Keep Up To Date With Updates
Although it can be time consuming, it's important to accept the updates on your PC or mobile device. New updates will include security patches to keep the latest virus out.
Anti-virus and Security Software
It's also a really good idea to have an antivirus software package installed on your computer to make sure no nasty bugs infect your PC. Look at Norton, AVG or McAfee and others. You can also get website protection products that will highlight if a website you visit is not safe or suspect isn't safe.
It's Never Too Late to Train
There are some fantastic free training tutorials available to help you navigate through your time online. Here is a good website with a variety of free courses
There's No Such Thing As A Free Lunch (or Wi-Fi!)
There are very few places now that don't offer free Wi-Fi. But be mindful of free Wi-Fi in shops, cafes and restaurants. There may not be a cost, but it could come with a price. You'll probably be fine checking your email or popping onto social media, but the Wi-Fi may not be secure. Doing online banking for example while using a free public Wi-Fi connection isn't a great idea. If you need to, it is better to use the 3G/4G that comes with your phone data package.
Safer Online Shopping
If a website asks for your details, please make sure it starts with HTTPS at the start of the website address. You should also see a little padlock item icon. This shows the site is safe.
If there's anything you feel uncomfortable about, you're within your rights to question or for advice.
The same applies for phone calls. No trusted organisation will ask for your password. Passwords are private and only you should know it. Do not feel bullied into giving these details away. Question and ask for clarification or ask someone you know you can trust for help.
Safer Social Media
If you use social media (it is a great way to keep in touch with family members and friends) there may be a few things you were not aware of.
You can change your privacy settings from public to private at any time, so only your chosen contacts can view your updates or send you messages.
Don't accept friend requests from people you don't know, even if you share mutual connections. You don't know who's hiding behind the profile.
If you get a friend request from someone who you are already connected with on social media, check this isn't a clone account, from someone pretending to be someone else.
Don't click on any unusual links sent in Messenger.
It may seem like a bit of fun to do one of those Facebook quizzes often shared amongst friends. However, be wary that by answering the quiz "What dog you would be?" or "What's your cowboy name?" it could be a sneaky way of working out your security answers and hacking into your account. Asking your mother's maiden name, your date of birth and your first house number, may appear harmless enough, but they are also the answers given to many security question prompts.
If you do get hacked, change your password as soon you're able.
The virtual world is a great place but just like real life, there are pitfalls and dangers and unscrupulous people ready to prey on older people. Have fun and enjoy your time online while staying safe.
For further information, you can visit these sites here