News image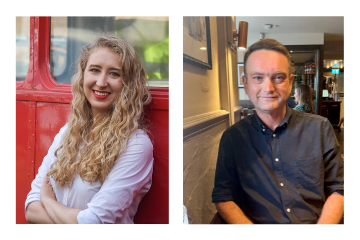 We are delighted to welcome two new faces to the Hourglass team this month. Tim Buttle and Kate Southern have joined the teams in England and Scotland.

Kate, originally from the US, joined Hourglass in July as the Development Manager for Scotland. She is experienced at development and fundraising work, having previously worked as the Development Manager at Dundee Museum of Transport, and as a fundraiser for the University of Dundee.
Kate was thrilled to accept the unique and varied position of Development Manager at Hourglass, saying:
"Before applying to Hourglass, the concept of elder abuse wasn't one that had really crossed my mind. Once I began looking at Hourglass' website, however, I understood that it was an issue that deserved the same attention as other types of abuse, such as abuse of animals or of children. I love the work of expanding charities, and I felt that Hourglass's mission was one I could sell with conviction, as greater awareness of the abuse of older people is so needed."
When she's not working, Kate volunteers with Girl Guides and is an active member of the Church of Scotland. She also enjoys painting, sewing, cake decorating, and exploring Scotland!
---
Tim's background is in financial services. For a number of years, he worked in the insurance industry, progressing from the frontline to managing a 100-seat contact centre.

During the first lockdown Tim was a community volunteer and supported a number of elderly residents with their shopping. "This was probably the first time I had got to know older people who I wasn't related to. The independence that was taken from them during the pandemic and their reliance on volunteers gave me a real appreciation of how vulnerable they can be and how thin the provision for social care is."

Prior to joining Hourglass, Tim worked for the Office for National Statistics on the 2021 Census where he was the Census Engagement Manager for East Suffolk. This brought him into contact with a number of third sector organisations including those working with older people.
"During the Census I worked with a number of charities including The Coffee Caravan in order to reach older people and provide support with completing the Census where required. Census 2021 was the first online census and I wanted older people to have the support they needed".


"I'm delighted to be joining Hourglass at this pivotal moment in the charity's history and it's exciting to be involved in building the service provided by our community response hubs and playing a part in reducing the abuse of older people".

In his spare time, Tim enjoys exploring the Suffolk coast and countryside, running to keep fit and having a proper pint.