News image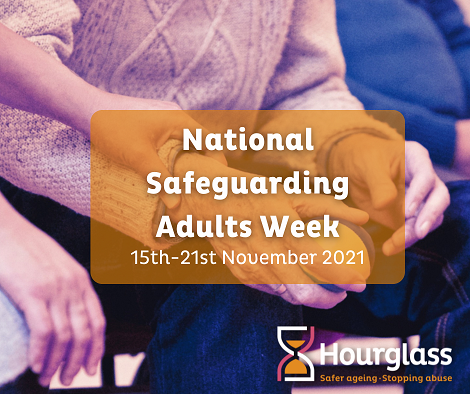 From 15th to 21st November, Hourglass is supporting National Safeguarding Adults Week which is taking place across England & Wales.
Our 2020 polling data, Growing Old in the UK, shows that 2.7 million older people are affected by abuse across the UK. A vital component of preventing and tackling this problem is through the practice of proper adult safeguarding. This is essential to ensuring the protection of older people from abuse; the promotion of safer ageing is at the core of the charity's strategy to end the harm, exploitation and abuse of older people.
But how do we define safeguarding for adults?
Outlined in the 2014 Care Act, Adult Safeguarding refers to 'protecting an adult's right to live in safety, free from abuse and neglect'. While this definition outlines safeguarding towards adults at risk in general, some of the most vulnerable and in need of safeguarding are the older members of our society. Therefore, it is of paramount importance to Hourglass that adult safeguarding is taken seriously by everyone.
There are many types of abuse against older people that adult safeguarding aims to challenge including:
Physical Abuse

Domestic Abuse

Financial Abuse

Psychological Abuse

Sexual Abuse

Neglect
To find out more about the types of abuse, recognising the signs of abuse and for more information, please visit the 'Types of Abuse' section of our website here.
An important part of adult safeguarding are the six principles, first introduced by the Department of Health in 2011 but applicable in all adult safeguarding situations. These are as follows:
Empowerment

Prevention

Proportionality – Least intrusion appropriate to the risk presented

Protection

Partnership – Services working with their communities

Accountability
Recognising these six principles and the part they play in promoting adult safeguarding is important to preventing the abuse of older people. These principles help cultivate a strategy of safer ageing, through crafting an environment in which older members of our society feel protected and respected, without the fear of exploitation or abuse.
In Wales, the 2014 Social Services and Wellbeing Act was created to outline procedures for adult safeguarding and wellbeing. These are intended to provide a guide for practitioners in contact with adults at risk of abuse and to aid them in 'identifying and addressing the adult's care, support and protection needs.'
The Adult Support and Protection Act of 2007 in Scotland is an Act designed to 'protect those adults who are unable to safeguard their own interests' and 'requires councils and a range of public bodies to work together to support adults at risk'. Furthermore, this Act resulted in the setting up of 'multi-agency Adult Protection Committees (APCs) in every council area in Scotland.
In Northern Ireland, the regional policy, 'Prevention and Protection in Partnership' outlines the adult safeguarding process to protect adult at risk of harm and in need of protection. The policy also clarifies the roles and responsibilities of the key players in adult safeguarding, namely health and social care and the police.
If you are concerned for the welfare of an older person or are experiencing abuse yourself, it is important to speak out. Hourglass offers a range of services that can offer information, guidance and support, such as our free and confidential helpline at 0808 808 8141.