News image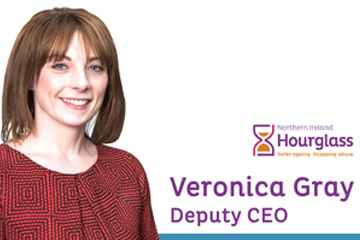 Meet the Team
Name: Veronica Gray
Position: Deputy Chief Executive of Hourglass & Director of Policy
Joined Hourglass:

I started working for the charity over six years ago and during that time have held a number of roles, firstly as Director of Northern Ireland, then Director of Policy and most recently taking on the role of Deputy CEO. It's been a very rich experience and allowed me to learn and develop new skills, meet exceptional people, and get a real understanding of the issues around abuse of older people. During my time my objective has been to shape policies and plans that make safer ageing a priority.
What does your role involve?

My job is very varied with a mixture of strategic and operational priorities which sees me involved in almost every aspect of charity life. Every day is different and I enjoy the variety and buzz that comes with working in a busy charity. I have helped hone the Safer Ageing theme (including Safer Ageing Week); the various Public Affairs and Lobbying approaches and more recently I've led on many of the campaigns both from a PR and fundraising perspectives.
What do you like most about your role?

The cause, the people and knowing Hourglass is in the privileged position of helping the most vulnerable people in our society who are facing the most challenging issues. The abuse of older people is an often hidden and vastly underreported issue, with victims facing significant barrier to accessing help and support.
What did you do before joining Hourglass?

I've always worked in the sector with an interest in safeguarding and protecting the most vulnerable. This job was of interest to me as it focused solely on the abuse and neglect of older people – an area which is so often overlooked and in dire need of attention.
Tell us something about yourself!

In my spare time I like to relax with family and friends, and indulge in the odd box-set binge.