News image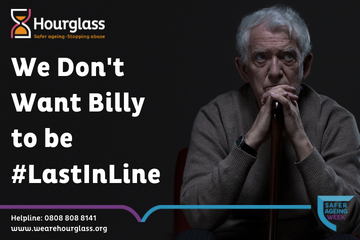 This is Billy.
He's 74 and lives alone, with only his dog for company.
Billy doesn't have family nearby and has very few friends. Early-onset dementia has started to cause confusion and makes him vulnerable to those he should be able to trust.
Hourglass is the only charity in the UK dedicated to ending the abuse of older people. Our helpline services provide free and confidential information and support for those affected by the abuse of older people.
We want to ensure older people like Billy feel safe. Everyone in society should have the right to age safely. Yet often, older people's needs are last in line.
During our Safer Ageing Week, we want to highlight the inequalities vulnerable older people experience and call for all UK Governments to prioritise policies to protect older people at risk from abuse in all its forms