News image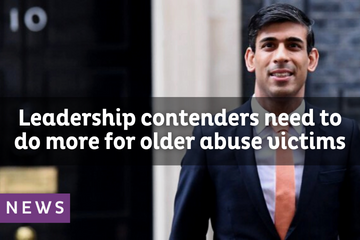 Leadership contenders need to do more for older abuse victims as cases spike and funds slump
1/09/2022: Hourglass (Safer Ageing) calls on Liz Truss and Rishi Sunak to make funding commitments for the only specialist helpline and casework service supporting older victims of abuse throughout the UK.
The UK's only elder abuse charity, Hourglass, has been disappointed by the lack of commitment from the two contenders for the Conservative Leadership to support older victims of abuse. The organisation has called on both candidates to commit to lifeline funding for the charity as its cases continue to rise.
Liz Truss has to date failed to respond to Hourglass, whilst the Ready for Rishi campaign has only made a general commitment to "engage organisations who support victims, such as Hourglass."
Days before she died, founder and Hourglass Patron Baroness Greengross wrote to Prime Minister Boris Johnson begging the government to provide adequate funding for the charity. Over two months later, the outgoing Prime Minister never responded directly to this letter.
Whilst the Home Office has since committed a small amount of money towards the running of the Helpline, the amount given is not enough to fund a fraction of the much-needed 24/7 Helpline. More concerning though, are comments by the Home Office that they will be running an 'open commercial competition' for future funding, when Hourglass is the only specialist service supporting older victims in the UK and has been running the service for thirty years.
Richard Robinson, CEO of Hourglass, said:
"With our helpline hitting annual figures of nearly 15,000 calls and cases rising sharply, it is very disappointing to have had no response from Liz Truss and no funding commitments from either the Truss or Sunak campaigns.
"The clamour for early support from the new Prime Minister will be enormous in coming weeks, but as the poor relation from a domestic abuse perspective, we are in urgent need of support and commitment.
"Research by Hourglass in November 2020 found that over 2.7 million people over the age of 65 in the UK have been affected by some form of abuse. The number of calls received by the Hourglass Helpline are increasing, yet we as a charity are not getting the support from government, we need to support these victims."
"Hourglass agrees with Dame Esther Rantzen's recent assessments of a 'glaring omission' in both Liz Truss and Rishi Sunak's leadership pledges, as reported in the Telegraph last week, with older people once again being left to the wayside, despite a growing epidemic of abuse against them."
"Research from Hourglass in December 2021 shows that there is an overall lack of commitment and profile when it comes to abuse of older people. Sadly, once again, it seems that abuse of older people is last in line when it comes to government support."
The charity is urging those keen to support the charity to make a donation by visiting www.wearehourglass.org.uk/donate or Text SAFER to 70460 to donate £10. Texts cost £10 plus one standard rate message and you'll be opting in to hear more about our work and fundraising via telephone and SMS. If you'd like to give £10 but do not wish to receive marketing communications, text SAFERNOINFO to 70460.
---
Contact
Richard Robinson, CEO
Notes to editors
About Hourglass
Hourglass is a UK-wide charity with a presence in all four nations. It aims to protect and prevent the abuse of vulnerable older people by raising awareness of the issues, encouraging education and giving information and support to those in need. It has the only national freephone helpline dedicated to this cause, open 24 hours a day, 7 days a week, on 0808 808 8141 for confidential support and information.
www.wearehourglass.org
Hourglass is a registered charity in England and Wales (1140543), and also in Scotland (SC046278)