News image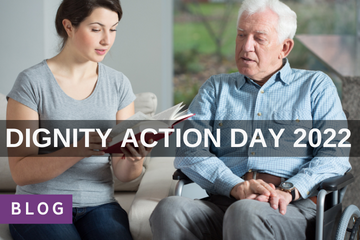 The 1st of February marks Dignity Action Day, an annual opportunity for healthcare workers, social-care workers and members of the public to support dignity in care. Dignity Action Day helps to ensure that people in the care system are treated as individuals, and that care workers and institutions are making sure that dignity is a key feature when providing care.
Key to helping older people suffering from abuse, or anyone concerned that an older people may be experiencing abuse or mistreatment, is treating those individuals with dignity and respect. Dame Joan Bakewell, Dignity in Care Ambassador said 'Dignity Action Day highlights a more respectful way of behaving towards vulnerable people' and Hourglass fully supports this message.
Led by the National Dignity Council, Dignity Champions is a network of individuals and organisations that work towards making sure that dignity is at the heart of care services across the UK. By signing up and pledging to challenge poor care, act as role models, and educate those around them, individuals can become a Dignity Champion. These can be health and social care workers, frontline staff, doctors, nurses and people who use care services themselves. To sign up and become one, follow this link: https://www.dignityincare.org.uk/Dignity-Champions/Becoming_a_Dignity_Champion/
For Hourglass, dignity is at the centre of our core values as we strive to achieve our agenda of safer ageing and ending the harm, abuse and exploitation of older people in the UK. Over one million people over the age of 65 are victims of abuse each year in the UK and our  free and confidential helpline is a lifeline for many of those victims. Furthermore, our Community Response hubs in Scotland and Northern Ireland, and our new IDVA service in Sussex, provide direct support to older people suffering from abuse.
In addition to these services, Safer Ageing Week 2021 saw the release of our complete UK Knowledge Bank, an important resource for those concerned about the abuse of an older person and looking for guidance. In addition to policy briefs, research and case studies, our Knowledge Bank also includes helpful tools such as Care Home reports published by regulators. These reports make sure that care services across the UK meet correct standards and are a useful resource in maintaining and supporting the level of proper dignity and care that individuals in receipt of care are receiving.
At Hourglass, our ambition is to establish a safer ageing agenda across the UK and raise awareness of issues surrounding the abuse of older people in the general public and in the eyes of the government. Dignity must be at the centre of the response to all cases of abuse of older people and must be a central factor in policy and legislation as well. If we are to establish an agenda of safer ageing and make sure that older people are protected, then the dignity of older people must be at the forefront of this mission and that is why Dignity Action Day is important.
If you're suffering from abuse, or are concerned about an older person, then Hourglass is here to help. Call our Helpline at 0808 808 8141 or visit wearehourglass.org to access our instant messaging service or Chatbot. If you require more information then our Knowledge Bank is an invaluable resource to finding local support systems near you, how to spot the signs of abuse and who to contact and can be found here: knowledgebank.wearehourglass.org