News image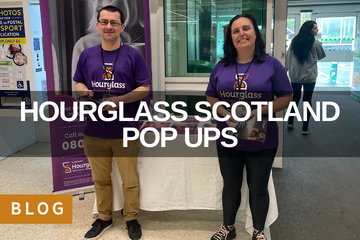 This month, our team at Hourglass Scotland has been raising awareness, spreading information and giving guidance at our pop-up clinics. From distributing leaflets and information booklets, to answering questions, we've been on hand to raise awareness of the abuse of older people in local communities across Scotland.
Alongside giving information about our services, such as our 24/7 helpline, texting helpline and instant messaging services, we've been answering questions from the local public such as:
- What kind of support we offer to victims of abuse.
- Issues with power of attorney
- Services available in the community
- What the abuse of older people is – financial, physical, physiological, sexual, neglect and domestic abuse
- How people can help the charity, donations via the Hourglass website, text to donate, fundraising and volunteering
Our staff are also often asked about any individual concerns, which are discussed privately or followed up by contacting us through our helpline.
---
If you'd like to host one of our pop-up clinics, then email us at scotland@wearehourglass.org or call 0749 632 3801