News image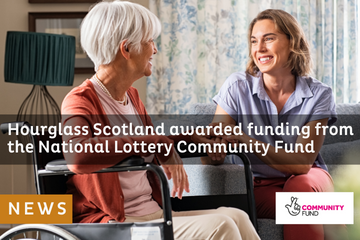 We're incredibly excited to announce that we've been awarded funding from The National Lottery Community Fund Scotland, to expand our services and support more older people across the country. This funding will go a long way to helping older victims of abuse through the expansion of our community response service in Scotland.
CEO of Hourglass, Richard Robinson, said:
"Hourglass Scotland delivers a unique service in the country and this award will ensure the charity continues to save and change more lives than ever before. Bringing in a new caseworker to understand issues and give advice based on Scottish legislation, building face-to-face relationships with other community projects as well as tailoring care plans for older victims of abuse is hugely catalytic for us.
We have worked successfully across Scotland for many years and cases of harm, abuse and exploitation of older people are rising year on year, but with this funding secured we know we have a backbone to continue to provide our services and support older people when they need us most."
The National Lottery Community Fund, Scotland Chair, Kate Still, said:
"National Lottery funding can make amazing things happen in local communities across the country. This project delivered by Hourglass Scotland is a great example of community activity in action, showing just what can be achieved when people come together for a common cause or to help others. National Lottery players can be proud to know that the money they raise is helping to support this vital work and to help communities thrive."
Hourglass would like to thank everyone involved in the National Lottery for making sure that these essential services can continue to support the people that need them.