News image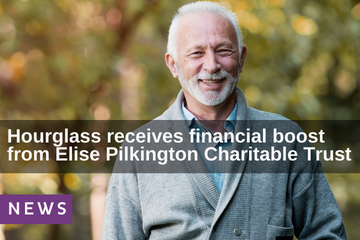 Unique 24/7 Helpline for abused older people receives financial boost from Elise Pilkington Charitable Trust
---
Hourglass, the only charity in the UK dedicated to ending the abuse and neglect of older people, has a £4k grant from Elise Pilkington Charitable Trust to support their 24/7 Helpline.

Hourglass (Safer Ageing), is the only UK wide charity dedicated to calling time on the harm, abuse and exploitation of older people. Their mission is simple, no older person should be harmed or abused. Violence and abuse against older people is widespread and under-reported. Hourglass research 'Growing Old in the UK' (2020), found that at least 2.7m people across the UK over the age of 65 are affected by abuse.

Hourglass's 24/7 helpline is the only one in the UK focusing on older victims and providing the information and skills to stop or prevent abuse, and support victims with strategies to keep themselves safe. With limited local service provision, and lack of targeted support for older victims, the Hourglass 24/7 Helpline is an essential service for those most at risk, and those most marginalised.
The 24/7 Helpline allows Hourglass to deliver important support and benefits including:

Free, confidential, non-judgemental advice and guidance to older victims/survivors and anyone concerned about an older person's safety and well-being

Trained, compassionate staff with experience of addressing complex, distressing situation

Emotional support.

Advice and advocacy: complaints, referrals to additional services

Safety planning and risk assessment

Signposting to local safeguarding and/or police, older people's services, pro-bono legal or financial support.

Whistleblowing advice for staff, professionals, and volunteers
The funds will help Hourglass's 24/7 Helpline answer nearly 10,000 direct calls and enquiries and provide advice and support to a further 16,000 Knowledge Bank users. Our 26,000 direct impacts will also support 15,600 partners of victims, 44,200 of the victim's children and 79,976 of the victim's grandchildren, a total of 165,776 victims and their family members.
Richard Robinson, CEO of Hourglass said:
"We are beyond grateful for this much-needed boost from the Elise Pilkington Trust. Their generosity will enable Hourglass to continue to provide this much-needed 24/7 service into 2023. Visionary trusts and foundations have long been at the root of our growth and enable us to support more and more older victim survivors."
---
The charity is urging those keen to support the charity to donate by visiting www.wearehourglass.org.uk/donate or Text SAFER to 70460 to donate £10.
Texts cost £10 plus one standard rate message and you'll be opting in to hear more about our work and fundraising via telephone and SMS. If you'd like to give £10 but do not wish to receive marketing communications, text SAFERNOINFO to 70460.