News image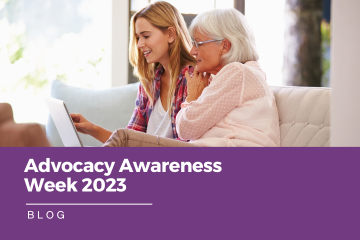 Hourglass is proud to support Advocacy Awareness Week 2023
---
This year's theme is All About Advocacy - what advocacy is and how it can help people. Organised by the National Development Team for Inclusion, they are currently marking their 5th annual edition of raising awareness about the importance advocacy.
This year's edition is in partnership with the British Institute of Human Rights and focuses on the promotion of the Human Rights Act, which underpins the work of independent advocates, providing a framework for the support they offer.
The Advocacy Charter 2018 defines advocacy as:
"Taking action to support people say what they want, secure their rights, pursue their interests and obtain services they need. Advocacy providers and advocates work in partnership with the people they support and take their side, promoting social inclusion, equality and social justice."
At Hourglass, advocacy is a core tenant of the support we offer. Our team advocates for older victim-survivors across the UK through our Community Response model, representing them and their best interests. Our team works directly with social services, community groups and other organisations, advocating for older victim-survivors to ensure that they receive the best level of support they can.
We spoke to Poppy Everton, Community Response Team Leader and IDVA on what advocacy means to her:
I think advocacy is important because a lot of our clients are in positions where they have been silenced and supressed, so supporting them to regain their own voice and use this to discuss what they want/need is very rewarding.

Advocacy is about building up knowledge and awareness so our clients feel empowered to take back control of their own lives.

As community response we are part of the journey, but the client is at the helm of the ship, guiding their own way forward.
Elizabeth Fox, Community Response Team Leader and IDVA said:
Working as an advocate means to support who the person is, and where they wish to be in the future.

We become their voice, their guidance and their safe space to discuss their worries and concerns. We then change 'what is' in to 'what could be' and for those who never thought that was achievable – it is life changing. And we get to be a part of that. It is the most amazing and rewarding journey.
Sarah Billingham, Community Response Officer spoke to us about advocating for an older person recently:
I am supporting an 83 year old woman who has fled from her abusive daughter and now seeks social housing.

She is bewildered by the process and receives emails with instructions as to how to circumnavigate tech issues on the online application service. I am advocating for her just to get the housing officer to assist her in her application.
It was important to advocate on her behalf as the council worker had little awareness of the struggles older people have with online services.
---
If you've been affected by abuse or are concerned about an older person, contact our 24/7 helpline on 0808 808 8141 or our support page here.