News image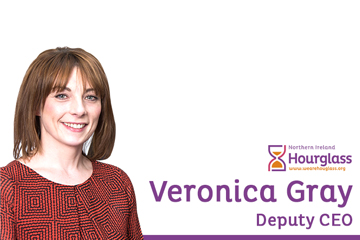 Hourglass NI launches at a time of real change for the voluntary and charitable sector in Northern Ireland. There had been no devolved government in Northern Ireland since January 2017 because the two majority parties DUP and Sinn Féin couldn't come to a power-sharing agreement. This uncertainty had plagued the third sector economy and left our only point of contact the NI civil service. An agreement was finally reached in mid-January 2020 – but the uncertainty remains and the legislature now needs to urgently catch up.
The voluntary sector here is distinctive from its counterparts elsewhere in the UK. The fact is, we're a society that continues to grapple with putting a stable and effective government in place, even almost 20 years after the Good Friday Agreement.
The lack of government and, subsequently, a budget has proved a challenge to individual organisations, especially when it comes to short-term grant and contracting arrangements. Whilst AEA NI had never had any such funding agreements – many of our stakeholder and partners did and the lack of certainty led to retrenchment, short termism and frustration.
Changes that would help support the sector, including a 10-year programme announced in October 2016 to reform health and social care and plans to use dormant accounts to release funding, are all on hold and likely to remain so as the new Executive comes to terms with the pandemic and huge infrastructure challenges.
As in Great Britain, the relationship between government and the charity sector has changed in recent years. But it is more obvious and challenging here. Grants are no longer given for agreed activities, but contracts are won for services. In many ways, that's reduced the independence and power of the sector. Such marketisation has made organisations vulnerable in the context of budget cuts, Brexit, competition with the private sector and – of course – the current coronavirus crisis.
What's to be done? There is both a need and opportunity for the sector to take on a more campaigning/advocacy role, rediscover its passion and enthusiasm for social change, and use that both to inspire the public and our politicians about what might be possible in the future.
Recent campaigns led by people and organisations in the sector and in civil society around abortion law reform, equal marriage and the Irish language demonstrate how we can make a difference and the public can be mobilised.
Our job, as Hourglass NI and in my role as Deputy Chief Executive, is to inspire the same approach to the abuse of older people and the safer ageing agenda. We need people to help shape new legislation which is comparable to that drafted in Scotland – we need to catch up and ensure that this most vulnerable part of society is protected and supported.
To do that, we need brave leadership at all levels and support and encouragement from our funders and the public. Hourglass NI needs to be part of a resilient, provocative sector here that can help drive positive change for many years to come. The challenge starts here.