News image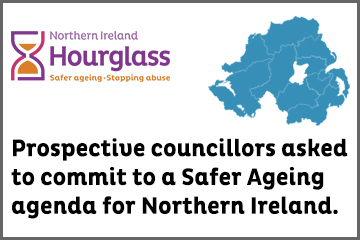 Prospective councillors asked to commit to a Safer Ageing agenda for Northern Ireland.
05/04/2023: Hourglass (Safer Ageing) calls on council candidates in Northern Ireland to support safer ageing.
Hourglass Northern Ireland is contacting every council candidate running in the Northern Ireland local government elections asking them to commit to safer ageing and to support older victim-survivors of abuse. Specifically, the charity wants safer ageing to become part of local planning exercises conducted by councils. This would ensure local authorities plan for and deliver services to support older people who have experienced abuse.
Thousands of older people in Northern Ireland are at risk of becoming victims of physical, financial, sexual or psychological abuse. Many others suffer abuse due to neglect. Older people are much less likely to report abuse and when they do, the experience can be traumatic.
In December 2022 Hourglass Northern Ireland released the Northern Ireland Safer Ageing Index. This Index highlights how the most vulnerable generation of people, so deeply affected by the pandemic and now the economic crisis, have another battle on their hands. And that is to live in a society that understands and flexes to the needs of an ageing society. The link to the NI Safer Ageing Index is here:
This Index, which will be re-issued annually, is a wakeup call to council candidates and political leaders that older people cannot be the last in line for support. This is particularly relevant with statistics suggesting the share of the Northern Ireland population represented by people aged 65 years is 17.2% and rising. Some studies predict the 65+ population in NI will increase by sixty percent over the next thirty years, with the largest increase being seen in the 85+ age group (up to 125%).
Veronica Gray, Deputy CEO of Hourglass, said:

"Hourglass is calling on all prospective councillors in the forthcoming elections to commit to a safer ageing agenda in their community and across Northern Ireland as a whole. We believe this deserves to be highlighted as a core issue amongst the haze of political messages as we loom closer to polling day.

"The financial crisis has added significant pressures to an ageing population only just starting to recover from the pandemic. We, as the only charity wholly focused on the abuse and neglect of older people in Northern Ireland, are hearing horror stories and our recent Safer Ageing Index underlines the challenge ahead. We would urge council leaders to talk to us and ensure that safer ageing is a prominent agenda issue and tackled head on, as it is becoming clear that older people are often the last in line."
Margaret Ritchie, Hourglass Patron, said:

"We have an ageing population, and our communities need to be considering this as part of their local planning exercises.

"Northern Ireland needs a safer ageing strategy to protect older people from abuse and neglect. This should start at a local level".
The charity is urging those keen to support the charity to make a donation by visiting www.wearehourglass.org.uk/donate or Text SAFER to 70460 to donate £10. Texts cost £10 plus one standard rate message and you'll be opting in to hear more about our work and fundraising via telephone and SMS. If you'd like to give £10 but do not wish to receive marketing communications, text SAFERNOINFO to 70460.
ENDS
---
Contact
Veronica Gray, Deputy CEO
veronicagray@wearehourglass.org
Mobile no: 07496663816
---
Notes to editors
About Hourglass
Hourglass is a UK-wide charity with a presence in all four nations. It aims to protect and prevent the abuse of vulnerable older people by raising awareness of the issues, encouraging education and giving information and support to those in need. It has the only national freephone helpline dedicated to this cause, open 24 hours a day, 7 days a week, on 0808 808 8141 for confidential support and information.