News image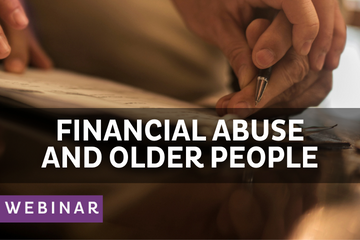 Financial Abuse and Older People
How can banks prevent the financial abuse of older people through working in partnership with other organisations
Thursday 20th October at 10am
BOOK YOUR PLACE ON EVENTBRITE HERE
---
Hourglass will be joined by Danske Bank to discuss how they work with different organisations in Northern Ireland, to help protect their older customers from financial abuse.
The webinar will discuss why partnerships are important in preventing the financial abuse of an older person, how they can work in practice and what other organisations need to put in place to implement similar working methods. We believe the cumulative effect of more collaborative working will help reduce financial abuse.
Paul O'Hara, is part of the Danske Conduct and Customer Experience Team, responsible for vulnerable customer strategy and support. They support those customers who find themselves in vulnerable circumstances and need additional support.
Danske will share their model for combatting financial abuse and the bank's good practice journey from identifying an issue through to reporting to the relevant authorities and next steps.
The webinar will discuss how the bank is working with Local Health and Social Care Trusts to help protect vulnerable older adults, and how staff are trained to recognise the warning signs that an individual could be a victim of abuse, before referring the case to the relevant adult protection gateway team or charity, such as Hourglass.
Helen McCormick from the Southern Health Trust, will also be on the webinar panel. She works closely with Danske, receiving referrals for those older people identified as vulnerable and at risk. Helen will share the process of what happens when they receive a referral and their next steps to protect the older person.
---
This will be an interactive webinar and we would welcome comments and questions to the panel from the audience. If you would like to submit a question or comment, please email pennywilby@wearehourglass.org.