News image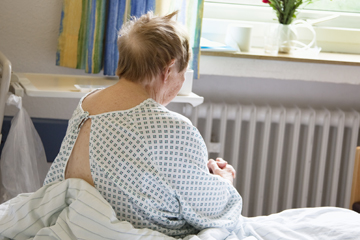 Safer ageing charity Hourglass has today [Tuesday 5 May 2020] joined ten other organisations who provide advice and services to older people, people with learning disabilities, cognitive disabilities, mental health issues and/or autism and their families in writing to the Care Quality Commission (CQC) to raise their concerns about the decision to stop carrying out inspections of care homes and hospitals. The news follows the CQC's announcement on 16 March 2020 that the regulator would cease regular inspections, save for "in a very small number of cases" where there are "concerns of harm, such as allegations of abuse".
In the letter, sent today by law firm Leigh Day on behalf of the organisations, the groups argue that vulnerable people are being put at heightened risk due to the suspension of inspections and that that the policy places the CQC in breach of its statutory duties under the Human Rights Act 1998, the Health and Social Care Act 2008 and the Equality Act 2010.
Commenting on the charity's concerns, Hourglass CEO, Richard Robinson said:
"We share the view that the CQC's policy of not carrying out inspections during the pandemic places the regulator in breach of its statutory duties. It is imperative for us to add our voices to those urging the CQC and the Government to make sure sufficient steps are being taken to maintain standards and protect those in care homes and hospitals.
"At Hourglass, we hear cases of older people being neglected and abused physically, financially, psychologically and sexually across the country every day. Even before the coronavirus crisis hit, we estimated that there are at least one million older victims of abuse each year across the UK, and in care homes specifically, we've collected data indicating that there are around 1,200 reported cases of abuse every year, but that's likely to only be the very tip of the iceberg.
"As many CQC reports have already highlighted, those who are residents of care homes are at heightened risk of exploitation, violence and abuse. In the current lockdown, that risk is even greater with families and friends not able to visit their loved ones in care.
"Therefore, it is vital that the CQC revises its inspection policy immediately to ensure the safety and wellbeing of care home residents, especially in those care homes deemed 'inadequate' or requiring improvement. Hourglass will gladly assist the CQC in identifying workable solutions to make sure that inspections can resume as soon as possible so that those most at risk are protected."
Notes
The organisations raising their concerns are: Challenging Behaviour Foundation, Respond, Rightful Lives, Learning Disability England, Bringing Us Together, Foundation for People with Learning Disabilities, Hourglass, Bristol Reclaiming Independent Living, People First, Inclusion London and Reclaiming Our Futures Alliance.
You can also read a summary of the letter by Leigh Day, here