News image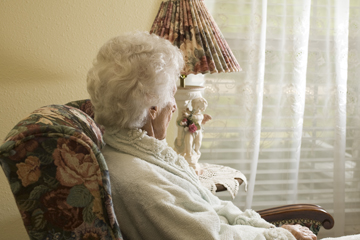 Full report available: here
Older women disproportionately affected by sexual incidents in social care - Hourglass welcomes regulator's call for change
Hourglass questions whether adult social care sector is struggling to protect older women from sexual assault following latest CQC report – endorses regulator's call for a more open culture to support people's sexual needs and keep them safe from sexual harm.
The Care Quality Commission's Promoting sexual safety through empowerment report, published on Thursday, 27 February 2020, shows that those in social care are not always being kept safe from sexual harm, and that more needs to be done to ensure the proper protection of older people, according to charity Hourglass (formerly known as Action on Elder Abuse).
Responding to the publication, the charity - which has been working alongside the CQC to make recommendations for improving the sexual safety of those using adult social care - said the report revealed a "concerning" number of notifications of sexual incidents taking place within adult social care services, with older women being disproportionately affected by sexual incidents.
The report, which documents more than 650 notifications of sexual incidents or alleged abuse that took place within adult social care services over a period of three months in 2018, reveals that women over the age of 75 were affected by, or victims of, sexual incidents in nearly half of all cases described to the CQC over the period analysed.
While AEA welcomes the CQC's investigation into a subject that is often hidden from view, and supports the regulator's call for an end to the closed culture in adult social services around sex and sexuality, the charity questions why providers are reporting so many notifications of sexual incidents when safeguarding measures should already be in place to protect those living in adult social care. The charity urges providers to adopt the CQC's recommendations as a matter of urgency.
Veronica Gray, Deputy Chief Executive at Hourglass, said:
We at Action on Elder Abuse [since renamed Hourglass] commend the CQC for investing the time and resources in looking at these hidden issues, and we wholeheartedly support their call to end the closed culture in adult social services around sex and sexuality. The reality is that sexual incidents are happening on a daily basis within adult social care, so it's critical that this issue - so often hidden from view - is brought out into the open.
While we endorse the CQC's message of supporting people in expressing their sexuality whilst in care and are in complete agreement with their recommendations, more needs to be done to protect those most vulnerable to sexual abuse. Safeguarding policy and procedure has been in place for a long time now, and yet the CQC's report has identified a large number of instances of sexual assault, with women over the age of 75 being the most affected group. It is overwhelmingly disappointing to see older women disproportionately affected, despite many years of culture of safeguarding policy and practice within social care. This trend cannot be allowed to continue. The first priority of adult social services must be the safety and wellbeing of those in their care.
Kate Terroni, Chief Inspector of Adult Social Care at the Care Quality Commission, added:
Supporting people as individuals means considering all aspects of a person's needs, including sexuality and relationships. We know that an open culture, where staff feel they can share concerns without fear of reprisal, where people and families are empowered to speak about their wants and needs in a sensitive way, and where managers and providers proactively enable conversations about sexuality to take place are the conditions that lead to people being empowered to stay safe and supported.
However, our report also shows all too starkly the other side of this - the times when people are harmed in the very place they should be kept safe.
It is not good enough to put this issue in a 'too difficult to discuss' box. We are clear that abuse in any form can never be accepted and we must act on the findings of this report to help providers and care staff protect people from sexual harm, while enabling people to continue or develop intimate relationships. We are confident that with the right commitments across the sector we can achieve both.
In the report, the CQC shares its findings and recommendations after reviewing more than 650 notifications of sexual incidents that took place in adult social care services between 1 March and 31 May 2018 and were reported to the regulator.
The report also looks at what can be done to fully support people in expressing sexuality and to have fulfilling intimate relationships whilst receiving care.
ENDS
Notes to editors
About Hourglass
Hourglass (formerly known as Action on Elder Abuse) is a UK-wide charity with a presence in all four nations. It aims to protect and prevent the abuse of vulnerable older people by raising awareness of the issues, encouraging education and giving information and support to those in need. It has the only national freephone helpline dedicated to this cause, open Monday to Friday between the hours of 9.00am and 5.00pm on 080 8808 8141 for confidential support and information.
Hourglass (formerly known as Action on Elder Abuse) is funded by The Big Lottery Fund. The Big Lottery Fund supports the aspirations of people who want to make life better for their communities across the UK. It is responsible for giving out 40% of the money raised by the National Lottery and invest over £650 million a year in projects big and small in health, education, environment and charitable purposes.
We are a registered charity in England and Wales (1140543), and also in Scotland (SC046278)
Contact
Sarah Bradnum, ZPB Associates, on 07887421304 or sarah.bradnum@zpb-associates.com