News image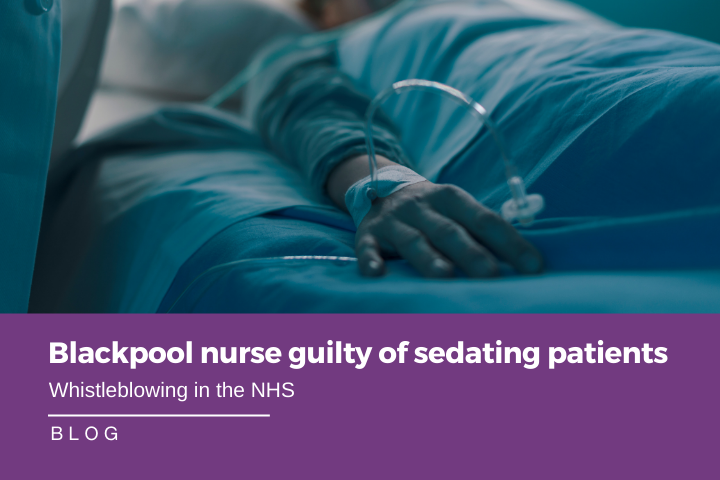 A nurse from Blackpool has been found guilty of unlawfully sedating patients for an 'easy life', showing a callous disregard for the safety of older patients.
Catherine Hudson, 54, gave unprescribed sedatives to two patients at Blackpool Victoria Hospital between February 2017 and November 2018. In addition, Hudson has been convicted of conspiring with a junior colleague, Charlotte Willmot, 48, to administer a sedative to a third patient.
In court, prosecutors named a "culture of abuse" due to police investigations uncovering WhatsApp messages between the co-defendants and other members of staff which detailed some of the horrific crimes. Jurors heard how Hudson wrote in a text that a patient had been sedated 'within an inch of her life' and that she planned to give one patient "the best sleep she ever had". Patients were targeted if the perpetrators disliked them, with Hudson stating that she had "sedated all the troublemakers".
Prosecutor Peter Wright said:
"the defendants treated patients not with care and compassion, but with contempt. They considered them, or some of them, to be an imposition, an irritation."
The pair were investigated after a student nurse had concerns while on work placement at the hospital's stroke unit, reporting this to the police in November 2018. Hourglass commends the student nurse for raising this concern which led to the perpetrators being caught before harming further patients. Calling time on the abuse and neglect of older people needs to happen more often.
Hudson had suggested administering un-prescribed zopiclone, a sleeping pill which is potentially life-threatening if improperly given. Hudson commented that the patient had a DNR (do not resuscitate) in place, so that if the patient died then there wouldn't be a concern raised against her. These acts show a callous disregard for the patient's safety and an abuse of the do-not-resuscitate order.
However, the "culture of abuse" within the unit is of great concern, with questions needing to be raised around staff or management who may have been aware of these crimes prior to it being reported to the police. A record number of 25,000 NHS[1] whistle-blowers came forward in 2022, however further protections are needed for those who come forward on matters of patient safety. A report from the BBC in July 2023 spoke to whistle-blowers who had been victimized and isolated following reporting concerns to management, with some even being investigated and fired. One whistle-blower, only named as Dr A in order to protect their identity, described the culture in their hospital as 'management by fear'.
A report from the Nursing and Midwifery Council (NMC) conducted through interviews with 41 staff members between 2021 and 2022 was unveiled last month by The Independent. The report stated that staff "wouldn't feel confident to challenge inappropriate behavior" and that management were defensive and "prioritized their reputation". Serious cases of physical and sexual were reported by whistle-blowers with little response or action taken by the NMC.
These reports raise the need for further provision of Independent Domestic Violence Advisers (IDVAs) and Independent Sexual Violence Advisers (ISVAs) in the NHS. These roles would act as a representative for both victims and whistleblowers, providing in-depth support to victims and advocating for staff who report concerns to management. Hourglass' team of IDVAs who operate within our Community Response model are essential to giving older victim-survivors of abuse a voice, working with partner agencies to find a path forward from abuse and intervening in abusive situations. These roles are important for the safety and protection of abuse victim-survivors and concerned staff, which is why Hourglass is calling for both IDVAs and ISVAs within the NHS.
Further questions must be raised around the perpetrators ease of access to these medications. Prosecutor Peter Wright KC's said an internal review found that the process of supply from the pharmacy to administering the prescription drug was "so lax as to be virtually incapable of being correctly audited or safely administered" and was described as being "a system open to abuse". The review found that in September and October 2018 a total of 1,100 Zopiclone tablets were dispensed but only 429 were recorded as prescribed or administered.
The over-medicating of patients is physical abuse, with damaging and long-lasting effects for victims. In the case of Zopiclone, it can lead to a lack of mobility, amnesia, hallucinations and depression, with these symptoms adding to the patient's issues they were admitted for. Known as 'Polypharmacy' the overmedication of older people is a widespread issue in prescription medication, let alone cases of improper use seen in Blackpool Victoria hospital. Hospital staff must be aware of the risks of over-medication and the process for dispensation needs to be placed under review to mitigate cases of medication related physical abuse.
In the wake of cases such this one and the Lucy Letby trial, calls for regulations on NHS management have been raised. In both the NHS and privately owned care systems, there is the need for accountability for leadership teams when systems designed to protect patients/residents fail. If we are to build a society that protects older people and the vulnerable, and cares about safer ageing, the rights of whistleblowers must be protected and the failures of management to be highlighted and dealt with.
---
If you need advice, support or guidance on the abuse of an older person, contact our 24/7 helpline on 0808 808 8141 or visit https://wearehourglass.org/hourglass-services
If you work within a hospital or care setting and have concerns around patient safety or any other matter, you can contact Say So through their website at https://www.say-so.co.uk/ or call the NHS whistleblowing service at 08000 724 725.