News image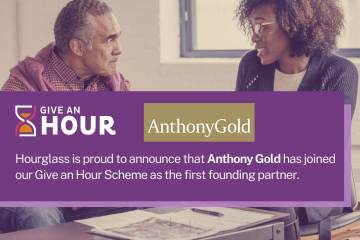 Hourglass, the only charity in the UK dedicated to ending the abuse of older people, launches life-changing Give An Hour Scheme, offering callers to their 24/7 helpline pro-bono legal advice.
Give An Hour Scheme launches to offer pro-bono legal help to the 10,000+ users of the charity's helpline.

Charity is dealing with a rise in cases of abuse, especially financial abuse, as the cost of living crisis continues and impacts families around the UK.

Hourglass is delighted to announce Anthony Gold Solicitors have joined the Give An Hour Scheme as the first Founding Partner.
---
In response to the growing number of users of Hourglass' services, the charity has launched Give An Hour, offering pro bono legal advice to helpline callers, allowing them to make more informed decisions about their experience of abuse and the next steps.
As the cost of living crisis impacts more families up and down the UK, the charity is predicting a significant increase in abuse cases. Calls to the helpline, available 24/7 on 0808 808 8141, have seen an increase of 67% calls this year relating to financial abuse. The majority of cases involved family members taking money from an older relative's bank account or misusing a Lasting Power of Attorney (LPA). The Give An Hour Scheme will give callers options and advice as to how they can move forward.
Hourglass is delighted to announce Anthony Gold, a leading London-based solicitors firm , has joined the Give An Hour Scheme as the first founding partner. Anthony Gold has a strong commitment to social justice and experience in work around Private Client cases, so is a natural fit for the scheme's values.
---
Richard Robinson, CEO of Hourglass, said:
"We're thrilled to launch the Give An Hour scheme, which we believe will make a significant difference to older victims of abuse. By providing pro bono legal advice, we hope to empower older people to take steps towards ending the abuse.

"We're delighted to welcome Anthony Gold as the first founding partner of the scheme. Their commitment to social justice and community service makes them the perfect partner for Give An Hour and we're excited to work together to make a real difference."
David Wedgwood, Partner at Anthony Gold, added:
"For the firm to have been chosen as a Founding Partner of the 'Give an Hour' scheme is a real honour. The values of the Hourglass charity are closely aligned with our business ethos, and our experienced, knowledgeable teams are ready to provide preliminary legal advice to assist vulnerable individuals through the most difficult of times."
---
About Anthony Gold
Anthony Gold is a multi-specialist London-based law firm with a national reputation. Founded over 60 years ago, Anthony Gold has grown and developed industry-leading sectors in claimant clinical negligence, personal injury and housing law, as well as award-winning family work, particularly in mediation. The firm's business ethos and brand values support a desire to assist the vulnerable in society, and individuals when they are at their most disadvantaged.
This work is supported by strong private client teams and the firm continues to grow, both in expertise and case load, notably in Court of Protection work and employment matters. People come to the firm to solve difficult problems and for help managing the complicated and sensitive issues that arise in their personal and business lives.
The firm is solicitor-led and proud of its reputation for excellence in client service, evidenced by its strong scores on review platforms including Trustpilot and Review Solicitors. For more information visit: https://anthonygold.co.uk/
---
Disclaimer for 'Give an Hour' scheme:
Please note: The offer of a free initial consultation with a lawyer is dependent upon a qualification by an Hourglass representative. To see if you qualify, please call the freefone helpine on 0800 800 8141 and, if appropriate, Hourglass will make a referral on your behalf to a lawyer.
Please do not contact Anthony Gold directly as you will not be able to claim a free advice session without an Hourglass referral.